After many were banned online for saying it, it's finally admitted the Wuhan lab leak may not be a "conspiracy"
Countless social media users were censored for discussing the possibility of a coronavirus Wuhan lab leak.
After dismissing the Wuhan lab leak as a conspiracy for more than a year, the mainstream media is now starting to reverse course and report on the possibility that COVID-19 originated in the infamous Wuhan Institute of Virology.
A Wall Street Journal exclusive, that has been cited by numerous other mainstream media outlets, states that: "Intelligence on Sick Staff at Wuhan Lab Fuels Debate on Covid-19 Origin Report."
The report goes on to acknowledge that US intelligence was questioning the role of the Wuhan lab as far back as November 2019:
"Three researchers from China's Wuhan Institute of Virology became sick enough in November 2019 that they sought hospital care, according to a previously undisclosed U.S. intelligence report that could add weight to growing calls for a fuller probe of whether the Covid-19 virus may have escaped from the laboratory."
The Wall Street Journal even admits that reports about whether the coronavirus escaped from this lab were "long characterized by skeptics as a conspiracy theory."
This admission follows the Director of the US National Institute of Allergy and Infectious Diseases (NIAID) and chief medical advisor to the President, Dr. Anthony Fauci's recently admitting he's "not convinced" COVID-19 developed naturally and called for an investigation into its origins.
Fauci's comments were also reported on by numerous mainstream media outlets.
In both instances, the mainstream media reports questioning the coronavirus origins and raising the possibility of the Wuhan lab leak were allowed to spread freely on social media.
The Wall Street Journal's report was allowed to rack up thousands of likes, comments, and shares, and even promoted in Big Tech's trending sections.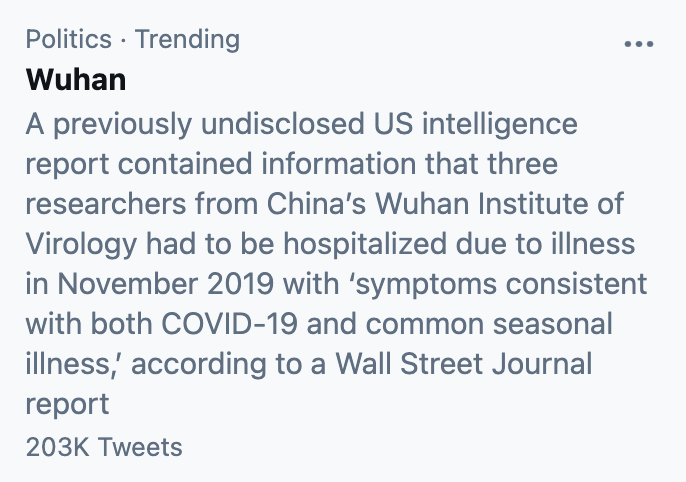 Yet for more than a year, since the early stages of the coronavirus outbreak, other social media users that have discussed the Wuhan lab leak had their content censored by the tech giants.
In February 2020, Twitter permanently suspending Harry Chen PhD after he reported about the coronavirus directly from Wuhan
In April 2020, Facebook censored a documentary from The Epoch Times that looked into whether the coronavirus might have originated in a Wuhan lab after it was flagged by a fact checker who previously worked at the Wuhan lab.
In September 2020, Twitter permanently suspended Chinese virologist and whistleblower Dr. Li-Meng Yan and Facebook censored her appearance on Fox New host Tucker Carlson's show after she claimed that COVID-19 was created in the Wuhan lab.
These are just some of the many examples of those who have been censored by Big Tech for discussing the same Wuhan lab leak the mainstream media is now covering more than year later.
While the mainstream media is being given free reign to suddenly change course and report on the Wuhan lab leak without facing any penalty from the tech giants, most of those who were censored by Big Tech for their posts about the Wuhan lab still haven't had their accounts or posts reinstated.
By Tom Parker