Police track plans for more anti-lockdown protests, organisers warned
Police are monitoring the online planning of further anti-lockdown protests and are pre-emptively approaching organisers to warn them against going ahead with the "selfish" events.
Thousands of protesters from a range of backgrounds participated in a widely-condemned Sydney protest on Saturday that had its origins in fringe online communities where organisers are linked to conspiracy theories, the anti-vaccine movement and far-right extremism.
The protest, coordinated with a "worldwide rally for freedom", turned violent as protesters resisted the heavy police presence. People considering regrouping for another event have been told to expect similarly heavy enforcement by officers.
NSW Police Deputy Commissioner Mal Lanyon said they knew further protests were in the works and were proactively intervening with targets.
"Social media and a range of covert methods are being used by these people to organise because it's very clear, they are aware that what they are organising is illegal. They are aware that the majority of the community do not support it," he said.
"We have sufficient numbers of intelligence officers and [are] using other methodologies to identify how these are being organised and who wishes to take this."
He said police were "reaching out to people we know like to organise these types of activities" and would deploy a large number of officers to any planned protests, including to disrupt people's travel to rallying points.
Elise Thomas, an analyst at the Institute for Strategic Dialogue, backed pre-emptive disruption and focusing on key organisers as a more effective way of preventing mass protests.
"We did see in Melbourne a series of protests that were gradually dismantled as the police response changed, Ms Thomas said.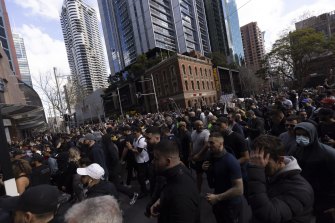 "One of the things that worked was police cracking down on protest leaders ahead of the protest."
The organisation of the protests in Sydney, other Australian locations and internationally began in online communities active on the encrypted platform Telegram. The groups are rife with anti-Semitism, conspiracy theories about COVID-19 and vaccinations, and links to the far-right.
The plans were then promoted more broadly Facebook and Instagram and the protest in Sydney ultimately attracted a diverse crowd numbering in the thousands. Many appeared to be mainstream members of society rebelling against the strict public health orders put in place in response to the latest COVID-19 outbreak.
Among those who attended was former boxer Anthony Mundine, a teacher at the prestigious King's School, a senior member of the Comanchero bikie gang, a conservative political candidate for the federal seat of Warringah and former NRL player Frank Winterstein.
Members of the protest groups on Telegram have been putting forward a number of possible dates for future events and are urging each other to be careful with sharing information publicly.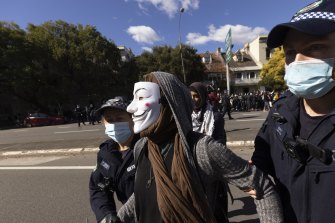 "Every channel is compromised, there is police, media and other[s] perusing all these channels," one user said on Wednesday.
Harrison Mclean, a prominent Melbourne-based organiser, told the Herald that a September protest was being planned by more established groups but a more imminent event was being planned by newer figures.
"The warning [from police] is unlikely to deter people if they choose to attend," Mr Mclean said.
Asked about the diversity and scale of attendees at the Saturday protest, Police Minister David Elliott said no demographic had a monopoly on selfish behaviour.
"We saw King's School teachers being selfish. We saw bikies being selfish. We saw political wannabes being selfish," he said.
Ms Thomas said a lot of the attendees on Saturday, viewed as "normies" by some organisers, were not steeped in extreme ideology and might be scared off by escalating police enforcement.
"It wouldn't surprise me if a lot of the people who showed up on Saturday had no actual idea who organised it," she said.
NSW Police have received about 15,000 tip-offs from the community about public health order breaches related to the Saturday protest and have so far arrested and charged over 60 people and issued 148 fines.
Mr Elliott urged members of the community to continue providing tips to Crime Stoppers about breaches of public health orders.
"I don't want anybody going around thinking that we've become a nation of dobbers ... we are a nation of family lovers," he said.
"We are a nation of people that want to make sure that their families and their communities remain safe, and we're a nation that wants to make sure that we get out of ... pandemic restrictions as quickly as possible."