TGA confirms AstraZeneca link to young nurse's blood clots
The Therapeutic Goods Administration has confirmed a link between a young Queensland nurse's blood clots and the AstraZeneca vaccine.
Ellie Peacock, 18, received her first dose of the vaccine on March 31, about a week before updated advice recommended people younger than 50 not receive AstraZeneca because of concerns over clotting.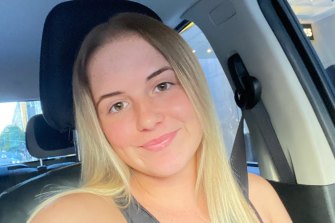 The TGA confirmed the link with the AstraZeneca vaccine on Thursday, saying the information reported met the criteria for confirmed thrombosis with thrombocytopenia syndrome (TTS).
It said Ms Peacock remained under investigation as there were ongoing clinical investigations, including consideration of other medical conditions.
The Queensland case was among four new reports of blood clots and low blood platelets assessed as TTS and considered linked to the AstraZeneca vaccine.
The others include a 57-year-old woman from Victoria and a 53-year-old man from South Australia.
A review of an earlier case in a 79-year-old Victorian man confirmed that patient as meeting the diagnostic criteria.
Two other new cases, in an 87-year-old woman from South Australia and a 71-year-old woman from Victoria, were deemed probably related to the vaccine, but more clinical information was required.
The total Australian reports of cases assessed as TTS following AstraZeneca vaccination is now 24, with 21 confirmed and three considered probable.
So far, about 2.1 million doses of the AstraZeneca vaccine have been administered.
Where information was available, the most common time to onset or diagnosis was 14 days, with a range of two to 44 days after vaccination.
All but one confirmed and probable cases of TTS were recovering and stable.
The TGA said 21 patients had left hospital, but two who remained in hospital were responding to treatment and were stable.
"The reporting rates of TTS in Australia remain consistent with what is being seen internationally, including in Europe, the UK, the Middle East and Canada," the TGA said.
Ms Peacock said she went to hospital on April 18 with pain in her calf, which she suspected was a blood clot, but an ultrasound did not show any signs and she was sent home with painkillers.
Over the next few weeks, she was in and out of hospital with pain, before being admitted with pneumonia in early May.
She was discharged again, but then readmitted after her blood oxygen levels dropped, and an X-ray revealed blood clots in her lungs.