YouTube deletes Dr. Robert Malone interview with Patrick Bet-David
Deleted within 24 hours. Listen to the full episode here.
Hot on the heels of getting banned by Twitter and having his interview with Joe Rogan censored on YouTube, Dr. Robert Malone, an mRNA vaccine technology pioneer, is once again being prevented from presenting his opinion about Covid vaccines.
This time, YouTube removed an interview Malone gave to entrepreneur and podcaster Patrick Bet-David, published on his PBD Podcast show. Bet-David tweeted about this, saying that it had taken Google's giant platform less than 24 hours to delete the video, and advising his audience that the conversation is still available on Spotify.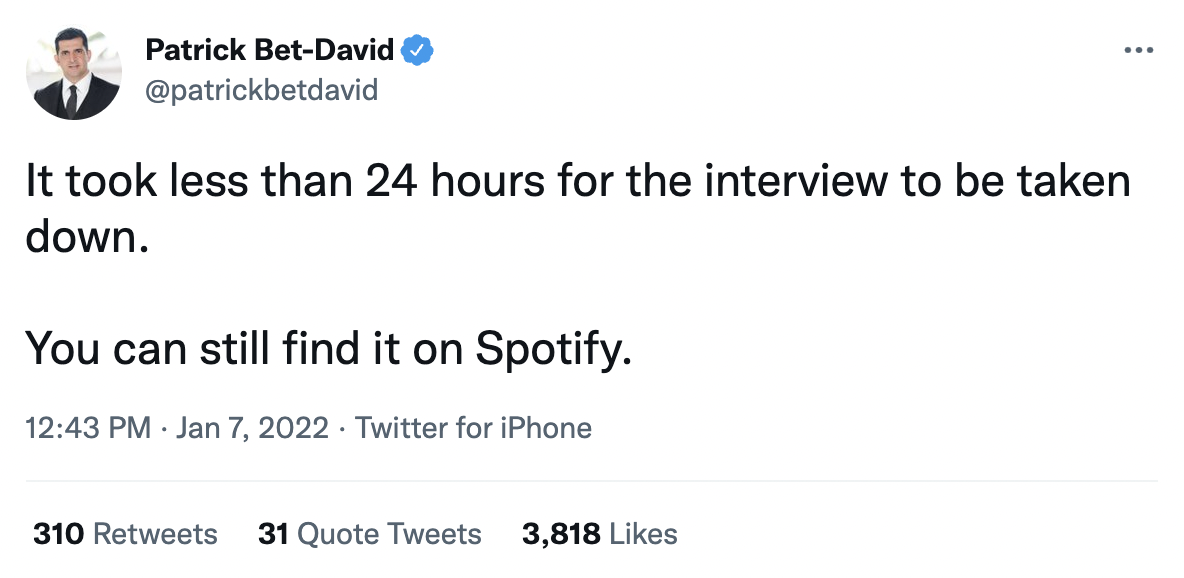 However, given the state of censorship on big platforms, and how coordinated these efforts sometimes appear to be, Spotify itself may not be the safest place for this type of content.
Dr. Malone confirmed that YouTube took the video down less than a day after it was uploaded – but he made the announcement on GETTR, providing a BitChute link where those interested in this expert's point of view on Covid vaccines can still hear it.
The video's description mentions that Malone is the inventor of nine original mRNA vaccine patents filed in 1989 and the author of 100 peer-reviewed publications. Meanwhile, YouTube is yet to state the reason for deleting the interview he gave to Bet-David, other than the generic message about the video violating its community guidelines.
But in announcing the removal, Malone sarcastically suggested that his "thoughtcrimes" must be "very, very dangerous" – since what he referred to as the thought police were working so hard to suppress them.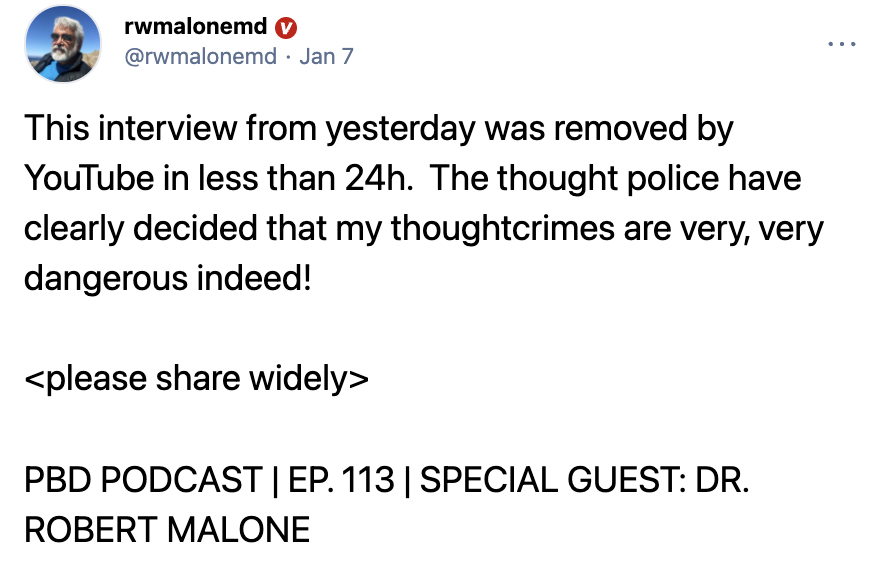 Malone has been strongly criticized for his Covid vaccine theories by some of the most influential legacy media as well, who, just as social media are censoring him on the internet, publish articles dismissing his thoughts as invalid. However, even if true, that still falls short of explaining why he should not be allowed to express them.
What is getting Malone banned is him speaking about Dr. Mattias Desmet's mass psychosis theory in the context of the safety and effectiveness of genetic vaccines.
The doctor believes this type of "mass hypnosis" can explain why a portion of the population has absolute faith in what they hear from politicians, legacy media, and the pharmaceutical industry.